Post by ` r i v e r on Jun 18, 2016 2:06:40 GMT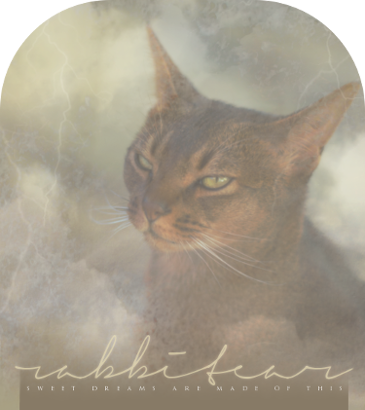 For once, Rabbitear was not looking to nap - ah! The sky must be falling then, the world ending. No, not that - instead, he was fuming. The weather, dark and dreary, paralleled his mood but did little to help lighten it. Jaw set, mossy gaze narrowed into slits, and tail lashing, cats would do well to avoid the tawny tom carving a gash down WindClan territory. The reason behind his anger was scattered, drawn-out, and collective in nature. A multitude of trivial matters, piled up and finally overflowing, had combined to create the swirling pool of pent-up anger that was his current state.
An idiotic kit running circles around his paws, tripping up his long limbs as he made his way to the already picked over prey pile. A wet, sopping sleep spent shivering in the rain, too irritable and pelt bristling too fiercely to accept the warmth of his fellow warrior's flank. Having not a single clue on how to train Shypaw. How could he possibly pass on the necessary skills of warrior hood to a cat who never uttered a word? The task seemed impossible. And why, in StarClan's name, did he receive another apprentice in the first place? The clan had seen what happened with Sandstrike, evolving into a shell of himself under his mentor's 'watchful' eye. He heard the whispers, the murmured rumours that he had done something to break the originally lively and spirited tom. Why then -
why
- had he been entrusted with the future of yet another cat? Redstar clearly had a vendetta.
Back in WindClan camp, the small she-cat, always infuriatingly silent, had looked up to her mentor with eager eyes - expecting eyes - ones that suggested her intent to train. That had been the last straw. In a fit, as cold as his actions likely came across, the tom had spun on his heels, evacuating the clearing before Shypaw had the chance to bound after him. He had passed Wrensong on his way out, her expression immediately brimming with concern, but he hardly acknowledged her before storming away. No point in lingering and thus lashing out at her.
Rabbitear flicked his ears in stony irritation, nearly startled when he realized how far he had gone. The gorge was before him, the rocky drop-off just fox lengths away. The waterfall, a huge rushing expanse of white rapids, was close enough that he could hear its roar. Cats were always warned of the dangers this part of the territory brought, but the potential for injury seemed to coexist well with Rabbitear's mood.
He dragged his unsheathed claws against the moor flooring, the mild act of violence already beginning to cool his temper. He glanced at the sky, rolling thunder clouds blotting out the sun, and sent a silent, haughty prayer to StarClan to keep the rain away. Or else.
NOTES:
sybil
gr anger