Post by ` r i v e r on Jul 27, 2016 21:14:40 GMT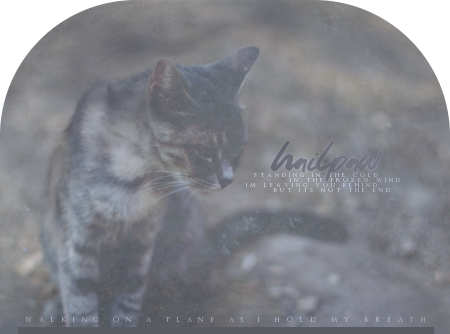 The blind rage governing Hailpaw's actions was rooted deep in his pride. It always had been. Without pride, without reputation and prestige, a clan cat was nothing. His mother, Sorrelfeather, was made of meekness and curves, soft edges and bends. She lacked, lacked a backbone and lacked any semblance of the prestige him and his father worked hard to maintain. It was almost as if she didn't care - an observation that made Hailpaw scoff and look down on her. Ashpaw too, with his easygoing likability and lazying about. He could scarcely wrap his head around lack of ambition. Why wouldn't a cat want to rise? To conquer? To
dominate
?
Luckily for the russet she-cat (and likely for Hailpaw as well), she scrambled away with just enough time to avoid the dangerous claws streaking towards her. Her terrified yelp fell on deaf ears, the blood rushing too loudly to register sound. He felt the telltale rip of flesh, a surge of triumph pumping through his veins, and . She had to learn a lesson. Had to understand what she had done. If Father was watching,
he
would have to see her punishment. Muscular legs pulled back, he sunk into a deep crouch on instinct, deftly preparing another assault just as quickly as the first had been executed. Hind legs coiled, sinew tensed, tendons flexed — all acting on impulse. 3… 2… 1-
A split second before attacking, this time aimed much more dangerously, Hailpaw looked upon his opponent. Saw the fear in her olive eyes. Fear of him. His eyes flicked to her ear, to the blood trickling down the side of her head, and in an instant his anger dissipated. Pangs of guilt bloomed, an unusual feeling for the icy tom. Something about the way she looked at him, in innocent fear, awoke him from his rage-induced stupor. He looked down at his own claws, a drop of crimson staining them, and immediately sheathed the weapons. His stance relaxed, just a short distance from the injured apprentice, and he scuffed a paw into the soft flooring. What would his clan think - blatantly attacking a younger, hardly trained den mate? It would hardly garnish respect… his father's words of the road to leadership filled his ears. He felt suddenly exhausted, looking at Dapplepaw. Taking a small step forward, the tabby had a distinct urge to brush away the damage he had caused, so he raised his tail to her ear as if to wipe away the blood. He stopped short, however, retracting the gesture just as quickly as he had procured it.
"I-I'm sorry,"
he murmured with an uncharacteristic softness, glancing into her orbs before brusquely looking away moments later, feeling a bit awkward. She had seen the empathy, the temporary melting of the iciness in his gaze, he was sure. A slight vulnerability. He realized his mistake as the words left his mouth, and so he muttered gruffly, rigidity returning to his posture.
"But I warned you."
If she listened carefully, she would notice the forced coldness in his tone; the wall purposefully replaced. The lack of true hostility. He tucked his tail tightly around his paws.
NOTES:
Hara
beb