Post by ♔ ferocious werepup on Mar 31, 2016 4:37:48 GMT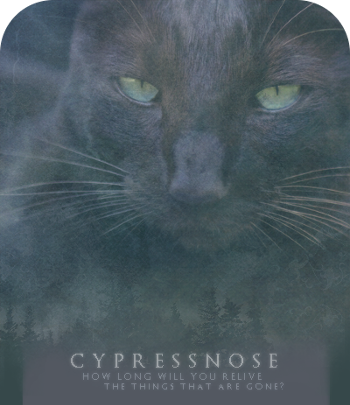 whiskers brushed the ground, his brown nose wrinkling against the grass that irritated it. the last thing he needed was to sneeze. moments ago he'd heard the scuffle of two long-legged hares, boxing each other silly on the moorland. creeping closer in order to get a better look, cypressnose was amazed by the sight; he'd never been stealthy enough to observe the animal so often his prey, actually acting aggressively toward its own kind. it was almost fascinating, and he simply crouched and watched for a while. the whole affair was incredibly brief, and soon the other hare was racing off. the body of a predator watching his prey tensed instinctively, but still the warrior waited.

the remaining hare, apparently exhausted momentarily, flopped down on its side. he drew a breath in anticipation. a long ear stood up. fox dung! he had began to slowly creep forward, but his excitement, seemingly the very pounding of his heart in his chest, had given him away. before either knew it, both were off and running. but the hare greatly outstripped him, hell bent on reaching its den deep beneath the earth before the warrior had a chance to catch up.

in single minded eagerness, the chocolate-furred tom crashed after in pursuit, head followed by the rest of him into the tunnels. here, though, he was greatly disadvantaged. the hare was completely at home in the cool, dark tunnels, while suddenly the tom felt much, much too big, not at all the slim windclan cat he was, but more like a bulky thunderclan cat trying to swim across the river, being drug under by the current. of course the lanky tom had been in the tunnels before, so he wasn't terrified or anything, but he certainly wasn't at his best. the hare disappeared down an immensely darker tunnel than the last they'd raced down, and cypressnose at last came to a stop, jaws parted as he panted to reestablish homeostasis.

so, he'd lost the hare. it wasn't the first time, probably wouldn't be the last. unfortunately, he was now lost as well. rather than panicking, he simply continued to wander onward after catching his breath, trying to choose tunnels that generally took an upward direction. it was sort of confusing though, the hills and valleys he seemed to go through, and eventually he stopped to rest near a very shallow pool, perhaps simply created from rainwater dripping in over weeks, and the cool, moist atmosphere keeping it from drying up. the tunnel roof was higher up here, and cypressnose didn't have to hunch over at all to stand or sit, though he was resting on his side, not feeling all that hurried.

sure, the poor guy had no way of knowing what time of day it was, or when he would find his way out, but at least he wasn't back at camp. it was sort of lonesome, sitting about on his own, or hunting alongside the other warriors in silence. he'd never really been one to have a lot of friends, and since honeyripple had died he spent much of his time alone, though he did try to check up on his daughter as often as possible. it hadn't been at all difficult for cypress to fall into a state of depression after his "mate," honeyripple, passed away, shortly after giving birth to their only kit, sandwisp. though things had never been romantic between the two best friends, unbeknownst to their clan, he was still devastated to lose her, and be left to care for their daughter alone. and though he hadn't truly sired sandwisp, she was still his daughter, as much as if he had. there was no room for doubt in cypressnose's heart, and after such a long time bearing such a heavy secret, he would make no attempt at revealing it. the past was the past, and he was deaf to his demons. no matter how loudly they seemed to scream in these little tunnels...

an eerie feeling had begun to come over cypressnose, and the tom quickly got to his paws and made to continue his journey. by now, he'd realized that the wisest choice would have been to retrace his steps back from whence he'd come, following the scent trail left by the rabbit and himself in hot pursuit. but it was much too late for that now, and with his stomach growling, the tom was beginning to wish he'd run just a bit faster and caught the hare before it had had a chance to escape his reach. he only hoped he didn't come across it again in a tight part of the tunnels and end up kicked in the face- that would be particularly humiliating to explain to any windclan cats who asked upon his return. if he ever returned. "what i wouldn't give for a breeze right now, to point me toward the surface..." he mumbled aloud to himself, brushing along the tunnel wall in vain.